All New Products - Just In Time For The Holidays
Whether for you, or a loved one - our products make a beautiful gift.
INTRODUCING: ALL NEW WELLNESS PRODUCTS
Non-CBD based supplements with extraordinary benefits
CREATINE MONOHYDRATE GUMMIES
Boost athletic performance, strength, and recovery time*
Support brain health and cognition*
Promote youthful skin*
Why the name 180 Pure?
We wanted our name to represent the essence of our products. 180 signifies 180° - the potential about-face 'turnaround' in wellness for our bodies. Pure stands for our commitment to using the cleanest and best ingredients possible - creating the purest results.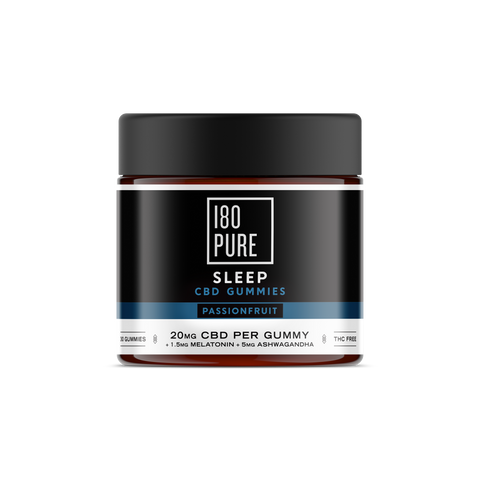 SLEEP Gummies
Product Details
Broad Spectrum
THC Free
Made in USA
Lab Tested
American Grown Hemp
Vegan
Servings
About 20mg CBD per gummy. 30 gummies per jar.
How To Use
Take 1-2 gummies 30 minutes before bedtime.
Ingredients
Organic Tapioca Syrup, Organic Sugar, Water, Pectin, < 2% Citric Acid, Natural Flavors, Natural Colors, Ashwagandha Extract, Melatonin, Hemp Extract